What is Mobile Seo?
Mobile SEO (Search Engine Optimization) is the practice of optimizing a website for search engine visibility and ranking on mobile phones. It involves utilizing various techniques, such as responsive web design, fast loading time, and optimizing content for small screens. Mobile SEO also includes keyword research to determine which keywords are most effective in driving traffic from mobile devices.

Additionally, it can involve setting up redirects so that desktop pages appear correctly when accessed by a user on their mobile device. By following these best practices, websites can be optimized to increase organic traffic from users searching using smartphones or tablets.
Mobile SEO is the practice of optimizing a website for mobile devices. It involves ensuring that your web pages are properly optimized and indexed by search engine algorithms so they can be found easily on mobile devices like smartphones and tablets. This includes making sure your content is responsive, reducing page load times, providing quality images and videos, optimizing meta tags, creating separate XML sitemaps for mobile users, building links to relevant websites and more.

With a successful Mobile SEO strategy in place you can ensure that your target audience will find your content quickly no matter what device they are using.
SEO Tutorial – How to Set Mobile First Approach Considering SEO
How Does Mobile Seo Work?
Mobile SEO is an essential strategy for businesses today, as more and more consumers are using mobile devices to access the internet. Mobile SEO focuses on optimizing content so that it can be easily accessed and viewed on a variety of different devices such as phones, tablets, laptops and desktop computers. This includes things like making sure your website is responsive (meaning it will look great no matter what device someone is viewing it from), structuring URLs properly for easy navigation, optimizing images for faster loading times, and ensuring meta tags are used correctly so search engines can accurately crawl your website.

By following these best practices, you'll ensure that your site can reach the widest possible audience with its message or product.
Why is Mobile Seo Important?
Mobile SEO is an important part of any digital marketing strategy as it helps to ensure that your website content is optimized for mobile devices. With more and more people accessing the web from their phones, it's essential to make sure that your website can be easily found by those users. Mobile SEO takes into account factors like page loading speed, usability on smaller screens, and even local search optimization when optimizing a site for mobile devices.

This helps ensure that no matter what device your audience uses, they will have a positive experience when browsing through your website – which in turn leads to increased engagement and conversions.
What is Mobile App Seo?
Mobile app SEO is the process of optimizing a mobile application so that it can be easily discovered in search engine results and rank higher for relevant queries. It involves both on-page optimization (such as making sure titles, descriptions, and images are optimized for discovery) as well as off-page optimization (like link building and leveraging social media to drive downloads). Optimizing mobile apps helps ensure potential customers can find your app quickly and easily, increasing visibility and improving download numbers.

With competition between apps growing ever higher, investing time into App Store Optimization is becoming more important than ever.
What is Mobile Seo Vs Desktop Seo?
Mobile SEO is the practice of optimizing a website so that it can be easily found and accessed by users on mobile devices. It involves making sure your website has a responsive design, meaning it adjusts automatically to fit any device screen size, as well as ensuring content such as images are optimized for speed and load time. Mobile SEO also requires you to consider user experience when designing your site, such as having larger buttons or clickable areas on small screens.

Desktop SEO focuses more on traditional elements like keyword research and optimization, link building, technical audits etc., with an emphasis on desktop users rather than those accessing from a mobile device. Both techniques should be integrated into any digital marketing strategy in order to ensure maximum visibility across all platforms.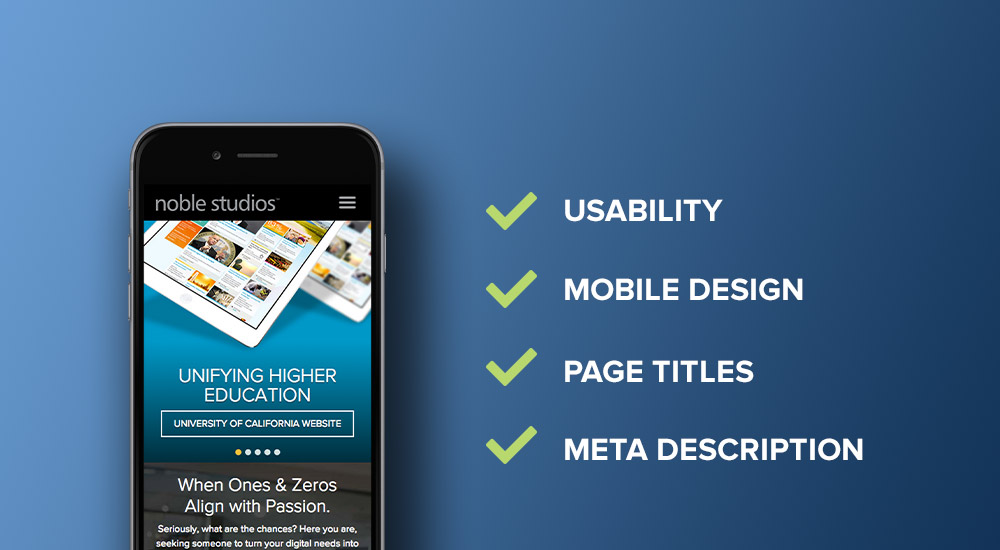 Credit: noblestudios.com
Mobile Seo Tools
Mobile SEO Tools are essential for any business that wants to optimize its website for mobile devices. These tools help with optimizing a site's content, structure, and design to ensure it displays properly on all types of mobile devices. They can also help identify potential issues that could be impeding a site's performance in search results and provide ways to fix them.

Ultimately, Mobile SEO Tools allow businesses to maximize their visibility on the web while catering specifically to mobile users.
What is Mobile Optimization
Mobile optimization is the process of making sure your website looks and functions perfectly on all types of mobile devices, including smartphones and tablets. It involves designing a website with a responsive layout that adapts to different screen sizes, optimizing images for faster loading times, ensuring links are easy to click on mobile devices, and more. By optimizing your site for mobile users, you can enhance their experience while also improving visibility in search engine results pages (SERPs).
Case Study Mobile Seo Marketing
Case study mobile SEO marketing is a great way to gain insight into how successful campaigns are built and executed. By studying what has worked in the past, businesses can develop effective strategies for their own mobile SEO marketing efforts. Case studies also provide an opportunity to understand the process of optimizing mobile search engine results, such as identifying keywords, creating content that appeals to users, and developing link building strategies.

With careful research and analysis of existing case studies, businesses can create powerful campaigns that will help them reach their target audience more effectively.
Mobile Optimization Example
Mobile optimization is an important factor for businesses to consider when creating a website. By optimizing the design of a website so that it can be easily viewed on any device, businesses are able to reach more users and ensure they have an enjoyable experience no matter what type of device they are using. This can include making sure the layout is responsive and text size adjusts depending on the user's device or simplifying navigation elements such as buttons or links so that it can be used by someone with large or small fingers alike.

Implementing mobile optimization strategies helps give your business an edge over competitors who don't take this into consideration and ensures customers have a great experience with your site regardless of their device choice.
Mobile Seo Write for Us
If you are an expert in the field of mobile SEO and want to share your knowledge with a larger audience, writing for us is a great way to do so. We accept submissions from industry professionals who provide informative and well-researched content related to mobile SEO that can help our readers understand this rapidly evolving area of digital marketing. If you think you have something valuable to contribute, we would love to hear from you!
On-Page Seo
On-Page SEO is the practice of optimizing individual web pages in order to rank higher and earn more relevant traffic from search engines. It involves a variety of techniques, including keyword optimization, content optimization, meta tags, internal links structure and much more. On-Page SEO is essential to any successful online marketing strategy as it helps your website appear in the top results for certain keywords related to your business.
Digital Marketing With Mobile Seo
Digital marketing with mobile SEO is an effective way to reach a wider audience and ensure that your website content is optimized for both desktop and mobile users. It involves optimizing webpages for better performance on mobile devices, using techniques such as responsive design, faster loading times, and improved navigation. By taking advantage of the latest technology in search engine optimization (SEO), you can make sure that your website is visible to more people who are searching from their smartphones or tablets.

By utilizing mobile SEO strategies, businesses can create a seamless customer experience online while also driving increased traffic to their websites.
Seo Strategies
Search engine optimization (SEO) is a process of optimizing content and structure of websites to increase their visibility on search engines. SEO strategies include keyword research, link building, content optimization and technical website optimizations such as improving page loading speed. Implementing these strategies can help businesses appear at the top of search engine results pages (SERPs), increasing visibility and traffic to the site.
Conclusion
Mobile SEO is an essential part of digital marketing, as the use of mobile devices continues to rise. It helps businesses maximize their reach and engage with customers more effectively on mobile platforms. By following best practices such as optimizing content for mobile users and creating a user-friendly website experience, companies can ensure they are reaching the right people in the right way.

With proper optimization, business owners can tap into new opportunities that come with this increasingly popular device usage trend.